YARD CARD QUEEN – FORT WORTH, TX
Yard Sign Rental Services and Pricing Information
Yard Card Queen Fort Worth, has a selection of the best personalized yard signs to rent for every occasion.  We help you personalize your yard card greeting signs to fit the personality of the person you will be surprising.  We look forward to becoming your yard card sign company.
Custom yard signs for special occasions including but not limited to the following:
Birthday Yard Signs
Over The Hill Signs
Sweet 16 Signs
Lawn Signs For Graduation
It's A Boy Yard Sign
It's A Girl Yard Sign
Happy Anniversary Signs
Wedding Yard Signs
Congratulations Signs
Happy Mothers Day Signs
Welcome Home Yard Signs
School Related Event Yard Signs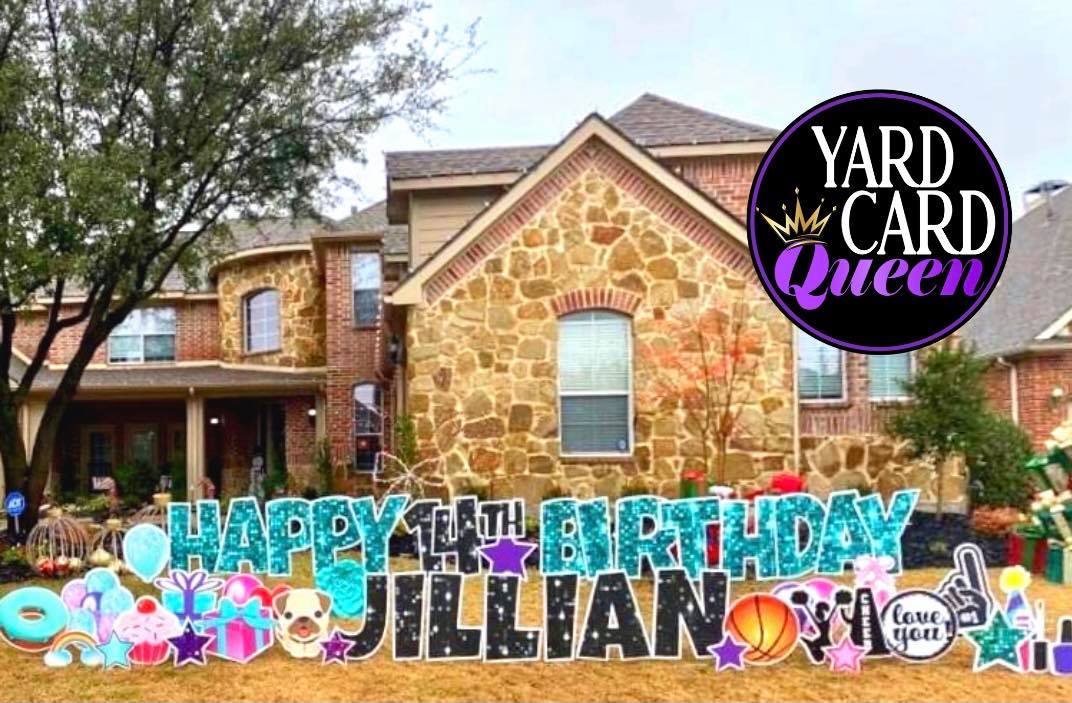 Custom Yard Sign Rental Contact Information
Questions? Comments?
We'd love to hear from you!
Phone: (817) 608-6014
How much does it cost to card my yard?
Prices include 24-hour sign rental, delivery, set up, and pick up.
Full Happy Birthday setups start at $85
Say Anything custom messages start at $85
Add-on options include additional flair, days, names/numbers, and spotlights
Additional Names: $10 each
Additional Phrase: $20+ each
Additional Days: $25 for 1, $45 for 2 – pending availability
Additional Flair: $15-$25
Spotlights: $10 per pair
Custom Theme Not In Inventory: $50
Yard Card Queen Fort Worth Service Area:
Serving Fort Worth, Haslet, Newark, Watauga, Saginaw, North Richland Hills, Keller, and Rhome areas.
We can't wait to provide the best yard cards for all of your special occasions and celebrations. Not sure if we service your area? Check in with us and let's see if we cover your zip code.
Looking for other Yard Card Queen custom yard sign rentals in Texas?
Happy Birthday Sets:
Blue Sparkle (Most Popular), Hot Pink, Bright Yellow, Red Sparkle, Green Slime, Gold Sparkle, Purple Sparkle, Pink Sparkle, Teal Sparkle, Orange Sparkle, Rainbow Sparkle (Most Popular for Females), Camo/Hunting, Fortnite, Over The Hill/Construction
Full Alphabet Sets (for names and additional sayings):
Black, Green, Red, Gold Sparkle, Silver Sparkle, Teal Glitter
Numbers:
Black, Silver Sparkle
Additional Sets:
Congrats (Gold Sparkle, Silver Sparkle), It's a Boy/Baby (Baby Blue), It's a Girl/Baby (Light Pink), Happy Anniversary (Black and Gold Flash Sign), Sweet 16 (Pink Sparkle)
Flair Themes:
In order to make your yard greeting as customized and personalized as possible, we encourage you to list items such as favorite color, sports, hobbies, interests, etc. Some common themes include Princesses, Mermaids, Unicorns, Video Games, Paw Patrol, Dinosaurs, Safari Animals, Super Heroes, Outer Space (young kid-targeted), Legos, Peppa the Pig, Baby Shark, Pokemon, Flowers, the Mouse and his friends, New Driver, Under the Sea, Firefighter/Police, Alcohol, Harry Potter, Pop Its, Casino, Power Rangers, Fiesta!, Food Items (Fries, Tacos, Nachos, etc.), Sports, Grilling, Tools, Fishing, Teacher/School, Nurse/Medical, Birthday Queen, Hunting, and Fashion/Makeup.
Note: If you have a preferred theme that we do not have, we can add that theme for a small fee. You will be contacted to discuss.
*All Set-Ups are completed the night before your celebration, typically between 7-11 pm. Pick-ups begin at 7 pm. Adjustments may be possible with adequate time and communication.*
Yard Sign Rentals Near Me – Fort Worth, TX
We joined the Yard Card Queen team as one of the first five territories, and the growth has been amazing to see! Now in more than 75 markets, Yard Card Queen is your go-to solution for celebrating your loved ones! We LOVE celebrations, and we would be grateful to help you show a little love in a big way!
Kady serves in the Air Force. Josh runs a non-profit for high school students and teachers. We love adventure, camping, game nights, and relaxing by the pool.
We have definitely taken on the "family business" mindset. Kady handles social media and designs, Josh leads our install crews, and our 4-year-old can often be spotted "helping" with pickups and setups (his favorite are the stars!). We have a few friends that help us out when life gets busy, and they know our expectations for setting up a great personalized greeting for you. We live in the North Fort Worth area, off Bonds Ranch and 287, and greatly appreciate your business.
YCQ goes the extra mile, not just step, to make sure you are 100% satisfied with your celebration.
Book today so we can work to make your next yard greeting our crowning achievement! We are your #1 yard card sign company around!!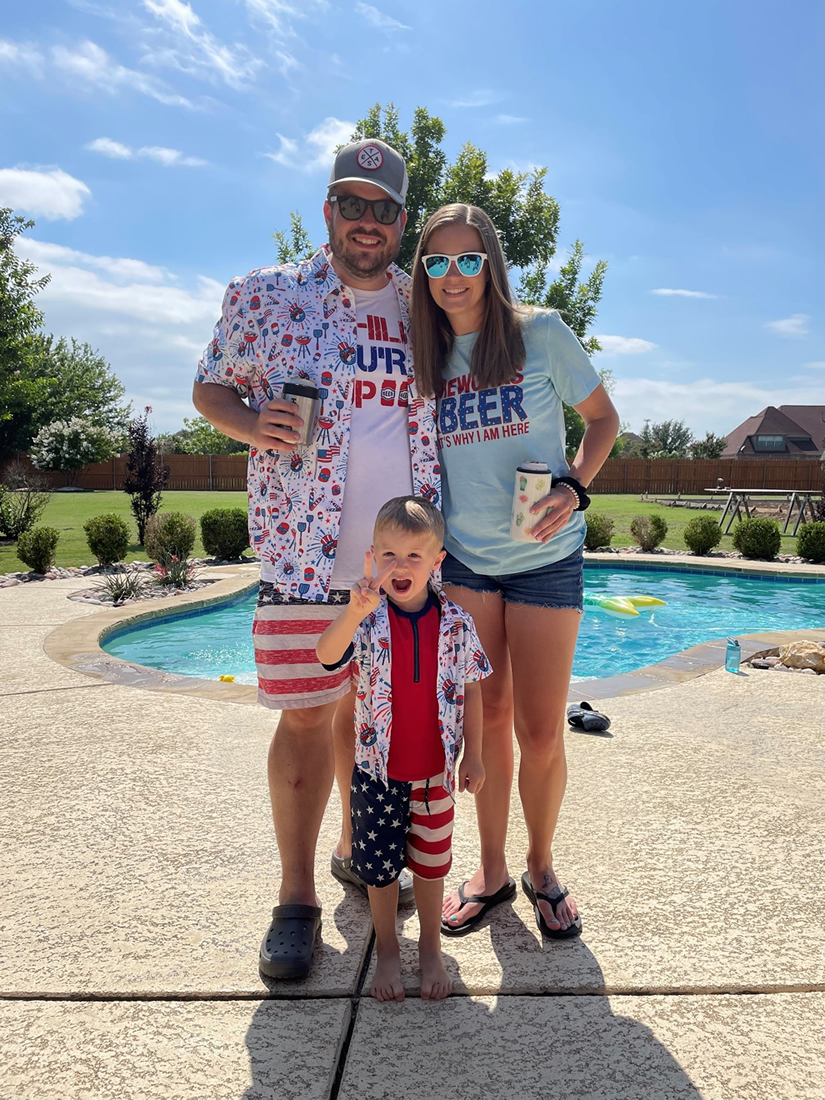 COPYRIGHT © 2023 YARD CARD QUEEN, LLC
ALL RIGHTS RESERVED.