YARD CARD QUEEN – FORT WORTH, TX
Yard Sign Rental Services and Pricing Information
Yard Card Queen Fort Worth, has a selection of the best personalized yard signs to rent for every occasion.  We help you personalize your yard card greeting signs to fit the personality of the person you will be surprising.  We look forward to becoming your yard card sign company.
Custom yard signs for special occasions including but not limited to the following:
Birthday Yard Signs
Over The Hill Signs
Sweet 16 Signs
Lawn Signs For Graduation
It's A Boy Yard Sign
It's A Girl Yard Sign
Happy Anniversary Signs
Wedding Yard Signs
Congratulations Signs
Happy Mothers Day Signs
Welcome Home Yard Signs
School Related Event Yard Signs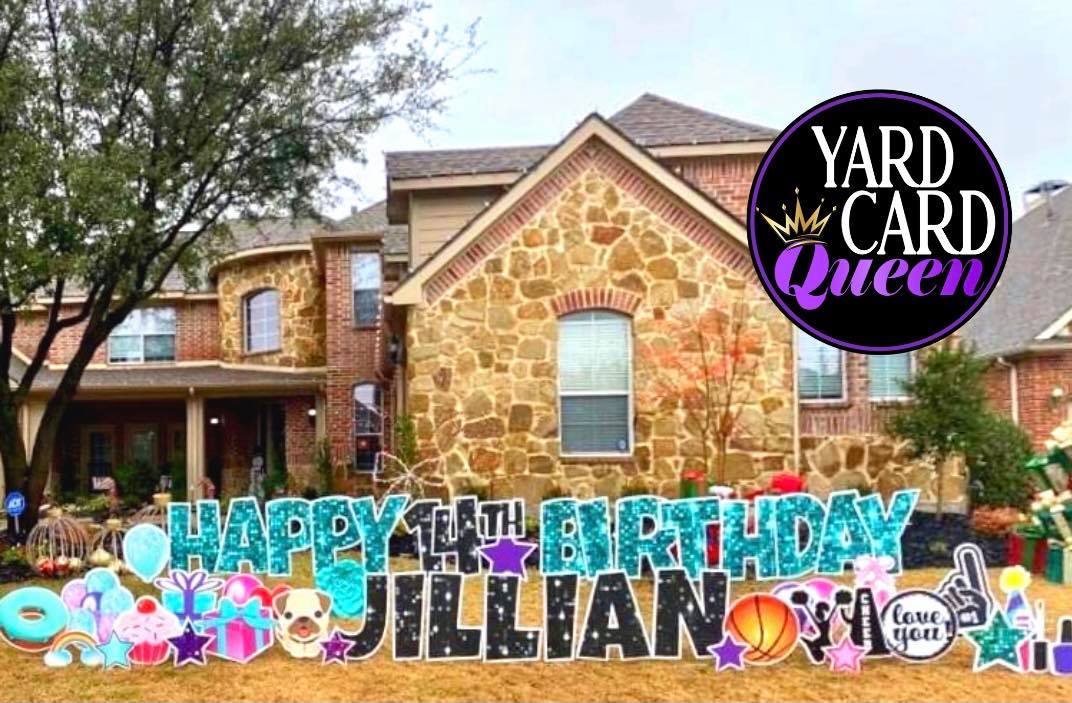 Custom Yard Sign Rental Contact Information
Questions? Comments?
We'd love to hear from you!
Phone: (817) 608-6014
How much does it cost to card my yard?
Prices include 24-hour sign rental, delivery, set up and pick up.
Birthday Flash setups start at $50
Full Happy Birthday setups start at $75
Say Anything custom messages start at $80
Add-on options include additional flair, days, names/numbers, and spotlights
Additional Names: $10 each
Additional Phrase: $20 each
Additional Days: $25 each
The Kitchen Sink Package (Overloaded with flair!): $50
Yard Card Queen Fort Worth Service Area:
Serving Keller, Haslet, Fort Worth, Saginaw, North Richland Hills, Watauga. We provide yard cards to the following zip codes in Fort Worth:
76052, 76179, 76131, 76137, 76244, 76248, 76182, 76148, 76262, 76092, 76180, 76117, 76118, 76127, 76108, 76116, 76107, 76109, 76133, 76134, 76132, 76115, 76110
Don't see your zip codes listed? Check in with us and let's see if we cover your zip code.
Looking for other Yard Card Queen custom yard sign rentals in Texas?
Happy Birthday Sets:
Blue, Pink, Yellow, Red, Black, Green, Silver Sparkle, Purple Sparkle, Pink Sparkle, Teal Sparkle, Orange Sparkle, Rainbow Sparkle (Most Popular), Primary Colors (Flash Sign, Ideal for small yards)
Happy Birthday Flashes:
Yellow & Black, Scarlet & Gray, Navy & Silver, Blue & Red, Green & White, Purple & White, Primary Colors (Red, Blue, Yellow, and Green)
Full Alphabet Sets (for names and additional sayings):
Black, Silver Sparkle, Red and Green
Numbers:
Black, Silver Sparkle
Additional Sets:
Congrats (Gold Sparkle, Silver Sparkle), It's a Boy/Baby (Baby Blue), It's a Girl/Baby (Light Pink), Happy Anniversary (Black and Gold Flash Sign), Sweet 16 (Pink Sparkle)
Flair Themes:
Unicorns, Emojis, Sports, Stars, Balloons, Presents, Cakes/Cupcakes, Medical, Snowflakes/Frozen, Princesses, Boy Toys (Race Cars, Legos, etc.), Video Games, Teen Girl Essentials, Sweet 16, Birthday Queen, Social Media, Food & Beverage + Adding More each week!
*All Set-Ups are completed the night before your celebration, typically between 7-11 pm. Pick-ups begin at 7 pm. Adjustments may be possible with adequate time and communication.*
Standard Rate – $75
(If your set-up is Mon/Tues/Wed – you will receive a $10 discount if you book 1-week in advance)
Happy Birthday "Flash" – $50
(Midweek discount not available on the Flash setup)
Yard Sign Rentals Near Me – Fort Worth, TX
Not what you were expecting with a name like Yard Card Queen, I know! But hey – it's catchy and creative, just like the special Yard card greetings we will design to help you celebrate any occasion! I'm born and raised here in North Fort Worth, I work in education, and I work hard to give my dog a better life.
I've wanted to get into this industry for years, but I was waiting for the right time, and the right organization to make this jump with. YCQ goes the extra mile, not just step, to make sure you are 100% satisfied with your celebration.
Book today so we can work to make your next yard greeting my crowning achievement! We are your #1 yard card sign company around!!