YARD CARD QUEEN – HUMBOLDT, TN
Yard Sign Rental Services and Pricing Information
Yard Card Queen Humboldt, has the best yard sign rentals for every occasion. We also have the big happy birthday yard signs too. We help you personalize your yard card greeting signs to fit the personality of the person you will be surprising.
Custom yard signs for special occasions including but not limited to the following:
Birthday Yard Signs
Over The Hill Signs
Sweet 16 Signs
Lawn Signs For Graduation
It's A Boy Yard Sign
It's A Girl Yard Sign
Happy Anniversary Signs
Wedding Yard Signs
Congratulations Signs
Happy Mothers Day Signs
Welcome Home Yard Signs
School Related Event Yard Signs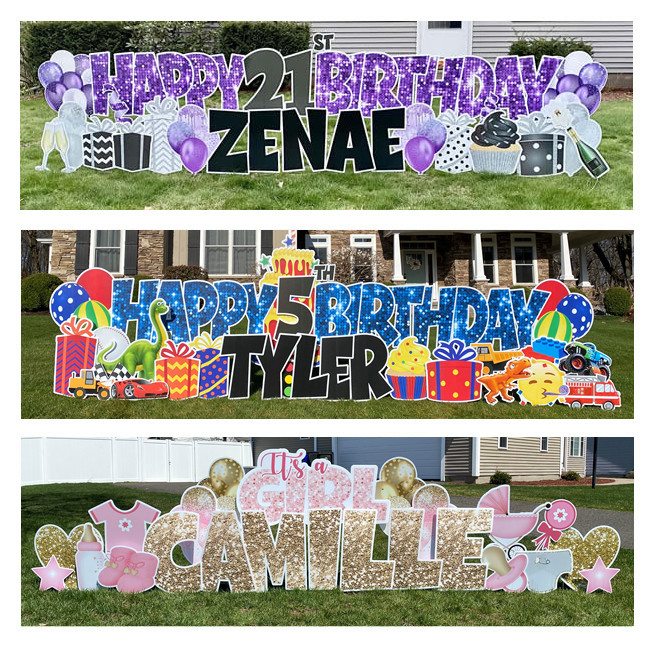 How much does it cost to card my yard?
Bronze Level is $79.99 PLUS tax (Name up to 8 letters with 10 pieces of flair).
— Example: Happy Birthday, Happy Anniversary, Welcome Home, Grand Opening, Gender Reveal, Job Fair
Silver Level is $89.99 PLUS tax (Name up to 8 letters with 10 pieces of flair).
— Example: Themed Sets (Ex. Super Hero/Princess/Harry Potter/Holiday/Etc.)
Optional charges:
– Additional a Day: $25
– Rush Fee (48 hours prior to setup): $25
– Extra Name: $10
– Extra Flair: $15
– Extra Phrase: $25
– Extra Letters: $5 Per Letter
– Solar Lights: $5 Per Solar Spotlight
Setups are usually done the night before or early morning of event depending on availability.
Prices include a 24-hour sign rental, delivery, set-up, and pick-up.
Virtual Yard Card: Digital only, NO physical yard card will be delivered. Perfect to send a virtual greeting for a love one out of town. Picture and/or video sent to recipient of choice of yard card. Price is $50.
Yard Card Queen Humboldt Service Area:
Currently serving HUMBOLDT, BRADFORD, MEDINA, GIBSON, JACKSON, MILAN, TRENTON, DYER, RUTHERFORD, KENTON, AND YORKVILLE areas.
We can't wait to provide the best lawn signs for all of your special occasions and celebrations. Not sure if we service your area? Check in with us and let's see if we cover your zip code.
You can also find other Yard Card Queen custom yard sign rentals in Tennessee.
Fun Yard Sign Rentals To Celebrate Every Occasion – Humboldt, Tennessee
Welcome to Yard Card Queen – Humboldt!
My name is Haley Stafford. I reside here in Humboldt. I am an educator and a tennis/cheer coach. I am married to my best friend, Brad Stafford. We have two goldendoodles; Max and Marley.
I absolutely love celebrating special occasions and all of the planning that comes with it. My goal is to be able to help others celebrate without sacrificing time with family. This is the perfect opportunity to be creative and help others celebrate.
Yard Card Queen will fulfill the need for celebrating that extra-special occasion. We are thrilled to bring smiles to the community through unique, quality, personalized yard greetings. Therefore, our belief is that everything is worth celebrating, and there's only one way to do it… with a bunch of yard signs, of course! Not to mention that we have the cutest birthday lawn signs too.
We deliver, we set up, YOU enjoy for 24 hours and we come back and take it down. Our team will do all the work while YOU get to ENJOY it!
Yard Card Queen is locally owned and independently operated.
Thank you for supporting a local small business!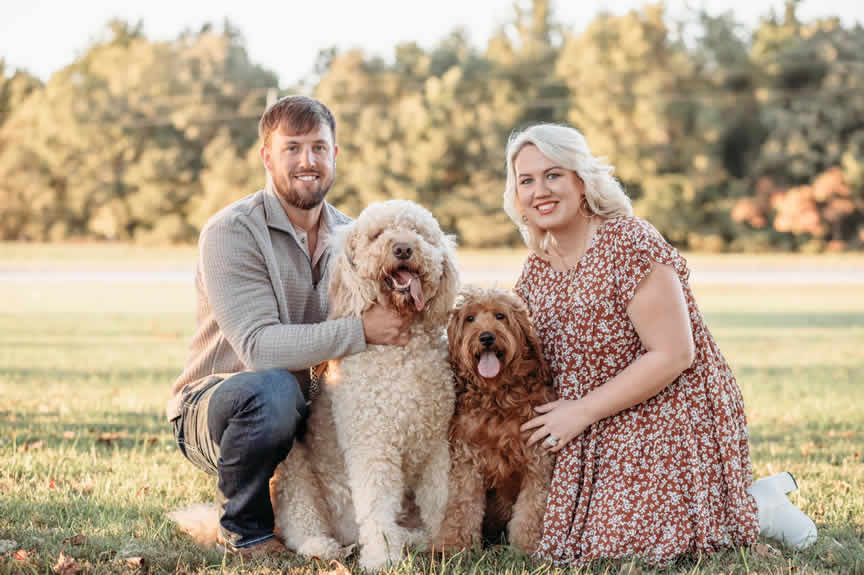 COPYRIGHT © 2023 YARD CARD QUEEN, LLC
ALL RIGHTS RESERVED.