YARD CARD QUEEN – O'FALLON, MO
Yard Sign Rental Services and Pricing Information
Yard Card Queen O'Fallon, is the best yard sign rental company with yard signs for every occasion. We help you personalize your lawn signs to fit the personality of the person you will be surprising.
Custom yard signs for special occasions including but not limited to the following:
Birthday Yard Signs
Over The Hill Signs
Sweet 16 Signs
Lawn Signs For Graduation
It's A Boy Yard Sign
It's A Girl Yard Sign
Happy Anniversary Signs
Wedding Yard Signs
Congratulations Signs
Happy Mothers Day Signs
Welcome Home Yard Signs
School Related Event Yard Signs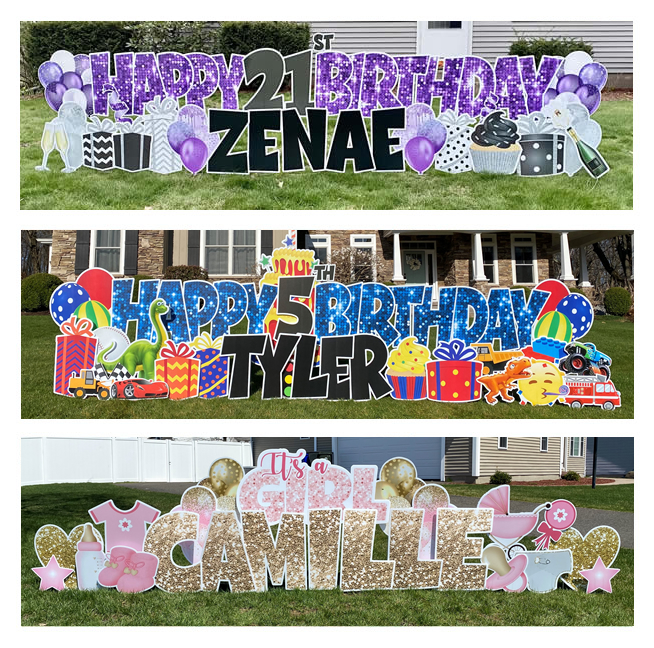 How much does it cost to card my yard?
*****Use PROMO "YCQNEW" for $20 off first time!!*******
PRICE: $100 Includes greeting + name + age + balloons + cake + speciality graphics (sports/hobbies/interests)
ADDITIONAL DAY(S): $30/day
ADDITIONAL NAME OR GREETING: $10
RUSH FEE: $15 (for reservations placed less than 24 hours prior to installation)
*Includes 24-hour rental, delivery, set up and pick up.
*Typical set-up time is on the evening before the first event date (7-11 pm) and pick-up time is on the night of the last event date (after 8PM).
Letter Color Choices: Hot Pink Sparkle, Deep Blue Sparkle, Gold Sparkle, Rainbow Sparkle, Black Sparkle
Graphic Ideas – sports, dance, cheer, weights, video games, Minecraft, Star Wars,  AirPods, music, nerf, legos, cars/trucks, makeup/nail polish, Instagram, Chik-Fil-A, TikTok, Captain America, swim, ice cream, donuts, coffee, dogs/cats, vacation, keys, hearts, flowers, champagne/beer, baby girl set, baby boy set, wedding set, American flag, welcome, happy anniversary, etc.
Yard Card Queen O'Fallon Service Area:
We service O'Fallon, Lake Saint Louis, Dardenne Prairie, Saint Peters, St. Charles and Wentzville areas.
We can't wait to provide the best lawn signs for all of your special occasions and celebrations. Not sure if we service your area? Check in with us and let's see if we cover your zip code.
You can also find other Yard Card Queen custom yard sign rentals in Missouri.
Fun Yard Signs To Celebrate Every Occasion – O'Fallon, Missouri
Welcome to Yard Card Queen – O'Fallon!
We are thrilled to bring smiles to the O'Fallon, Lake St. Louis, and surrounding communities with these fun yard greetings!
I'm Kristi and I love making people feel important by celebrating their special occasions. Having 6 children, I know how challenging it can be to find the time to making each person in your family feel like they are unique and special. Yard Card Queen will do just that! Our personalized and high-quality yard card displays are a wonderful way to add that special touch to any celebration.
We deliver, we set up, YOU enjoy for 24 hours and we come back and take it down. Our team will do all the work while YOU get to ENJOY it!
Yard Card Queen is locally owned and independently operated. Thank you for supporting a local small business!